63000 Counts True RMS Bench Type Digital Multimeter With dBm/USB/Peak Function VA801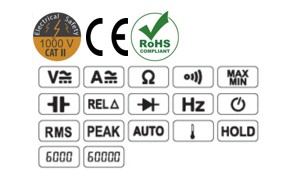 The VA800/VA801 Series is a new generation of reliable, cost effective, full capabilities benchtop digital multimeters. With measuring DCV, ACV, DCA, ACA,Resistance (2&4 Wire),Capacitance, Diode Test, Frequency and Temperature.
The benchtop digital multimeter is not only designed for simple and efficient bench top use, but also includes providing a variety of auxiliary functions, communication interfaces, sotiware options for data logging and remote programming to help meet the needs of test and measurement applications in process testing, teaching experiments and inspection occasions.
This series benchtop digital multimeter can fit any DMM application with speed, accuracy, reliability, and efficiency well beyond its price.